The Triangle Leisure Centre (Burgess Hill)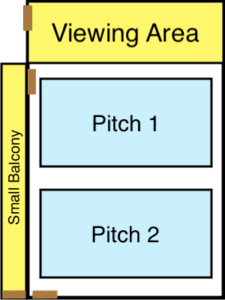 There is one large hall which will be split into two pitches.  A large balcony at one end provides space to watch games and hang out.  The TD desk will be up on that balcony.
Important covid precation – the sports centre want us, where possible, to avoid using the rest of the centre needlessly.  For instance traveling from the viewing area/balcony down to the pitches via the reception area.  There is a set of stairs at the end of the small balcony that'll take you to the hall.  It's just as fast if not faster.  Please use this unless you absolutely need to go via the rest of the sports centre.
Important covid precation #2 – There are also changing rooms and toilets below and behind the small balcony (on the ground floor).  Where possible use these rather than mixing with the general public.
Please take your post match chats outside if the weather isn't too bad.  Nicely out of the way of others using the venue.
Water is a bit hidden away at The Triangle.  There are water fountains in the gym, the swimming pool area and the 1st floor studio.  Failing that the water from the loo sinks is ok.  It comes from the same pipes.
Showers – exit the sports hall threw a pair of doors with a large "6" (almost) above it.  Showers are down that coridoor.
Please use the bins and bin bags provided!  If you can't see one get up and have a look around.  Once your games have finished please take full advantage of the showering facilities on offer.
Food at the venue
There is a café at the venue serving hot drinks and cold food (sandwiches etc).  A large Tesco is a 6 minute drive away.
There is also free fruit up along the balcony.
Travelling by car
Get yourself onto the A23 until you reach the junction for the A2300 towards Burgess Hill (Burgess Hill will be sign posted).  Continue down the A2300 until you reach the second roundabout (go straight over the first roundabout).  At the second roundabout take the third exit (straight over), turn left, this then takes you into the sports centre.  There will be loads of parking.
Travelling by train
Burgess Hill is on the main line between London Victoria and Brighton, although 'express' trains don't stop there.  Get off at Burgess Hill and order a taxi.  You're going to 'The Triangle' sports centre.  It's a 10 minute / 2.5 mile drive.  Probably best to phone the taxi as you arrive into the station so you're not waiting too long.
Address
The Triangle Leisure Centre
Triangle Way
Burgess Hill
RH15 8W